"When I started studying Personal Styling and Image Consulting, I did it with a very clear goal in mind: I wanted all my clients to feel beautiful. Fashion is more than just what you wear, style is not representative of the number of pieces you have in your closet and the clothing itself has the power to change the way you feel almost more than a great morning coffee. When you don't feel confident you make impulsive choices, fill your wardrobe with meaningless pieces and, believe me, you spend a lot more money. On that point, I started creating a different relationship with fashion. For me, it's about comfort, safety and self-knowledge. It is about finding out who you are and how it is reflected in your image, being aware of what flatters you (and what may not do so much, even though I am not the biggest fan of rules) and wearing what makes you feel beautiful and powerful, at all times. There are no universal laws that cannot be broken, if that makes you feel confident and full of energy to face every single moment.
It is exactly this strength that I want to transmit to you with OH, MONDAY! High quality items that you can wear in as many occasions as you wish, feeling powerful and beautiful, with a light and positive message to all women out there. If possible – and I hope so – OH, MONDAY! will only have an ending: the "happily ever after".
Margarida Marques de Almeida, Founder and Creative Director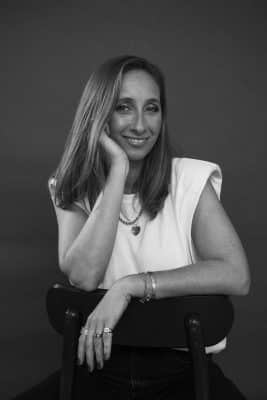 I can't tell you the exact moment when OH, MONDAY was born! Now that I look back it looks like it was there from the beginning. Of course, between a wish and its materialization a good few years can pass and my story was no different. Ideas grow, mature, reinvent and transform and OH, MONDAY! grew in my head until it became a concrete plan – a conscious fashion brand, with garments that flatter most women, a highly quality product and impeccable finishes.
OH, MONDAY! doesn't close itself in a single box, but if I had to describe it I would say that it is a slow fashion brand for elegant, strong and dynamic women (or for all the times we need a push to feel that way). Carefully designed for a wide variety of women with a modern spirit, our garments want to help build an identity and add a feeling of strength and determination that makes you feel beautiful inside and out.
At OH, MONDAY! we are determined to build a community of strong, goal-getter women who feel empowered every single day. And Monday is just an excuse and a new beginning for everything we want to achieve.
We want to celebrate all women without distinction and help them choose what makes them feel beautiful every day, through informed decisions. The day starts with what we choose to wear and we want to make this decision easier with awareness.

We make limited runs of conscious elegant pieces, made to last a lifetime and accumulate memories. Clothes that enable women to embrace their own strength and femininity without compromising the world in which we live. For this, we produce locally, all the pieces are made by hand by experienced seamstresses and extremely focused on details, with the best working conditions guaranteed and respecting the impact on the environment.

WHAT WE STAND FOR:
1. Empowering Women
We strive to bring you empowering garments, worn by strong and empowered women, to inspire you everyday of your life. Monday can easily be the hardest day of the week, but with a positive mind and a great outfit, nothing can stop you from reaching your goals. Learn as much as you can, be positive, always wear a smile and share your knowledge along with your community. All women are beautiful and the strength lives inside them, we want to show off that strong, beautiful and empowered women out there. Join us in this beautiful journey.
2. Producing timeless clothes
We work hard finding the best fabrics to produce our garments, with a stylish yet contemporary touch so that you can wear them for a long time, in many occasions as possible. We believe in clothes that make us happy and we want them near by as much as we can.
We design for ourselves, making the garments we also want to wear. Above all, our priority is the quality of our pieces.
Buy consciously, buy less, buy better, based on informed decisions.
3. Making the world we live in, a better place.
We believe in doing things the right way. We are committed to contributing to a better world, being part of the solution and not part of the problem. We source all the fabrics and produce locally, in small, clean and ethically certified seamstress ateliers, working according to a competitive wage. We only order enough fabric to fulfill our orders, not excess fabric that conventionally would end up in storage or a landfill. We focus on natural and recycled fabrics as much as possible.
We will always do our best to limit our impact on the environment.